It seems as if everyone has received their travel brochure/wedding invitation and I'm so excited that some people are trying to make the trip. We know how much of an expense and inconvenience it is to travel to Puerto Rico for a week, but we also know everyone loves a good vacation and this island offers some of the best beaches, food & cultural experiences anywhere in the world!
Here are some suggestions for those of you looking around at flights and places to stay:
According to this site, the best day to buy your ticket is on a Tuesday and prices vary by the hour. I always use Kayak and set up a price alert, as well as the flexible travel option that shows you airline prices 3+ days before and after you might want to come. If I was booking today, I would go depart 10/2 or 10/3 and return 10/8 or 10/9- but play around with the dates and pick what works for your schedule.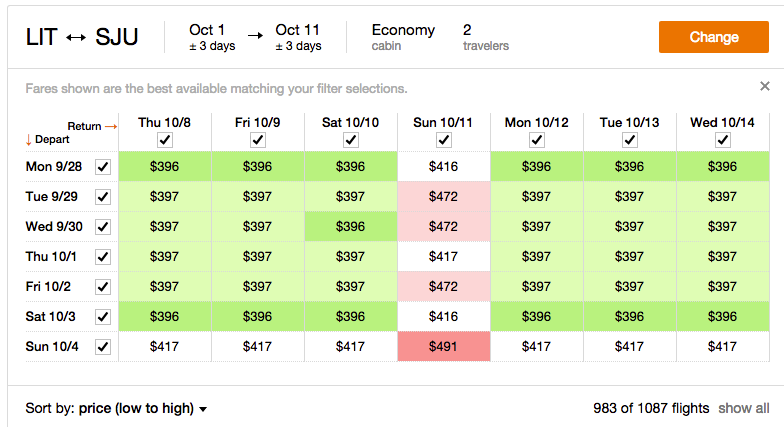 (Also check airline reward cards for bonus offers like this one through Delta/Amex. It's the best because you don't have to use just points, you can subtract your points and pay the difference in cash. 50,000 bonus miles is a GREAT offer so I'd apply for it ASAP and put all your bills on it for a month or so… That's what Broc and I did the first time we visited and only had to pay $220 total for both us of to fly roundtrip after using points)
Obviously Sunday is the most expensive day to travel, so I would recommend you coming either the weekend before the wedding and cabbing it to Old San Juan for a few nights, or coming Monday 10/5 and staying in the city Friday & Saturday 10/9-10, departing 10/10. You do not need a car there and Da House is a great eclectic hotel in the middle of the city that's not too expensive. Or you could stay the first night in Condado – city center of San Juan- and the second in Old San Juan- it's really your preference, but both are beautiful and definitely worth visiting. I wrote a SUPER long blog post about the first time Kara, Laura and I visited the island (man we looked so young!) so you may find that useful, but TripAdvisor is probably better and more up to date. We also checked out some Fodor's Puerto Rico books from the library and they list all the best restaurants and places to stay in every part of the island.
The deal with Palmas Del Mar, where we live, is that there's not a lot to do here and the beaches aren't that great. The good part is that it's very close to both the Ferry and the Ceiba Airport, making travel to either Vieques or Culebra very doable. A roundtrip ferry ride will cost you about $4 but plan on waiting in a long line and sitting on a boat for 1.5 hours. A roundtrip flight on these tiny planes is only $66 to Vieques & $88 to Culebra and we think very worth it. It just depends on your budget, really. Both islands are so gorgeous, it would be a shame to miss the hidden beaches and glorious sights & sounds of either place. However, Rincon & Cabo Rojo are also pretty amazing, just on the other side of the island from us. Getting there from here (in a rental car) would take about 2.5 hours and save you from having to rent a car both here in Puerto Rico and then there on one of the islands. (You can't take your rental car on the Ferry :()
As for rental cars, the prices are really very reasonable. Expect to pay around $20/day + gas from most anywhere you look, but I use Kayak for car searches as well.
To stay in Palmas, you have either the hotel option (which we will create a room block if we get several RSVP's wanting to stay somewhere easy so it will be around $119/night) or check out some of these condo's that sleep 4-8+ people and are somewhat reasonable. Most everyone who is invited knows everyone so several couples/friends could stay in one place together and save quite a bit by splitting the price. (We are working on securing 3-4 condo's in Palmas through an agent here for a very special rate/night so more updates on that as we know how many people are coming and when.)
Current listings on VRBO
Current listings on AirBnB
October is not a popular time of the year to visit, so that makes things cheaper and more available. You have plenty of time to book places to stay.
I would also use both sites to look for rooms on the islands (if you're taking the trip), in San Juan or Old San Juan or if you decide to drive West after the wedding and stay in Rincon or Cabo Rojo the last few days of your trip. (I favored a few- feel free to create your own searches with dates, number it sleeps, amenities, etc).
Hopefully this is somewhat useful info and i will be updating the blog regularly with posts on good deals, good car prices, etc. so check back every few weeks:)
We can't wait to see you and are so thankful you can join us on our special little day!