This weekend I had the pleasure to attend my first yoga retreat in Puerto Rico, properly named Refill Your Cup. I've been way out of practice the past few years and only attend a morning class with Daniella from Santosa Yoga once a week (and not religiously) so when I heard about the retreat I booked it immediately.
To say the retreat was needed is an understatement. The opportunity to get away from the stresses and challenges of every day life, connect with other like-minded ladies here in Puerto Rico and really focus on self-love and mindfulness is something everyone needs to prioritize- at least a few times a year.
We arrived at the retreat center on Friday afternoon and were blown away by how lovely the home was! It was located about 25 minutes outside of Condado in a neighborhood called Beverly Hills (ha ha)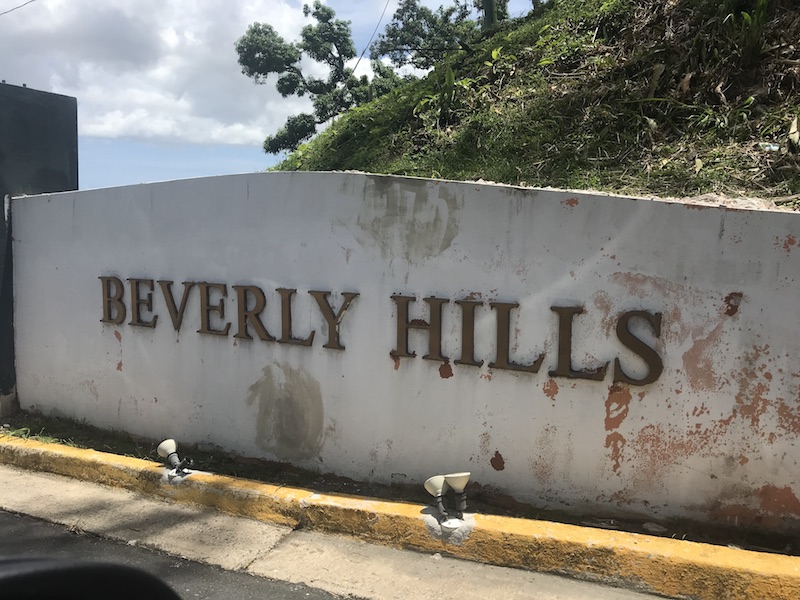 The indoor/outdoor concept is popular in Puerto Rico and works beautifully if the home is positioned for wind ventilation, creating the perfect temp and no need for AC. (And especially this time of year, when the humidity is still manageable.) The kitchen & dining room were covered with a gorgeous wood ceiling but opened up to the pool, breezeway and small sitting areas surrounded by tropical foliage. Every room, including the bedrooms and even the shower, was designed so that the usual boundary between inside and outside blurred seamlessly in the best possible way. I just loved it!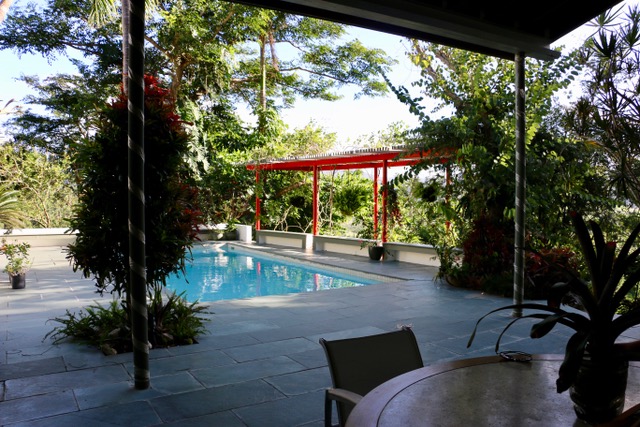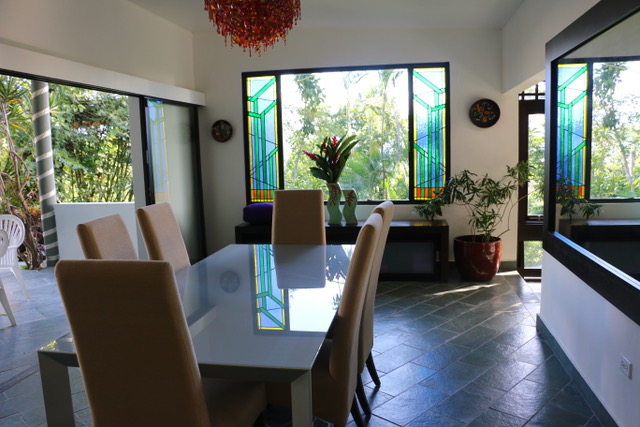 After touring the house, dropping our bags into our (private) rooms and meeting the other girls – who were all just amazing btw- we gathered in the sun room to begin our first journaling workshop. Daniella asked us to take a few minutes to write down our priorities. Mine were pretty straightforward and obvious: husband, family, dogs, friends, job, faith, reading, photography, finding new hobbies, etc. Once we were finished, she then asked who in the group wrote down "myself" and I don't think anyone raised their hand.  Daniella explained that we had to believe ourselves worthy and to understand that if we don't meet our own needs first we can never be the best wife, sister, daughter, employee or friend we can be. Valuing my feelings, focusing on myself, being mindful of how I speak of myself and surrounding myself with positivity is the path to true happiness. Such a simple concept but one I will have to practice and work towards without feeling selfish…
"Better keep yourself clean and bright; you are the window through which you must see the world." -George Bernard Shaw
After the workshop we had a guided yoga & meditation session and then a wonderful vegetarian dinner provided by the restaurant Berlingeri in Ocean Park. (highly recommend!)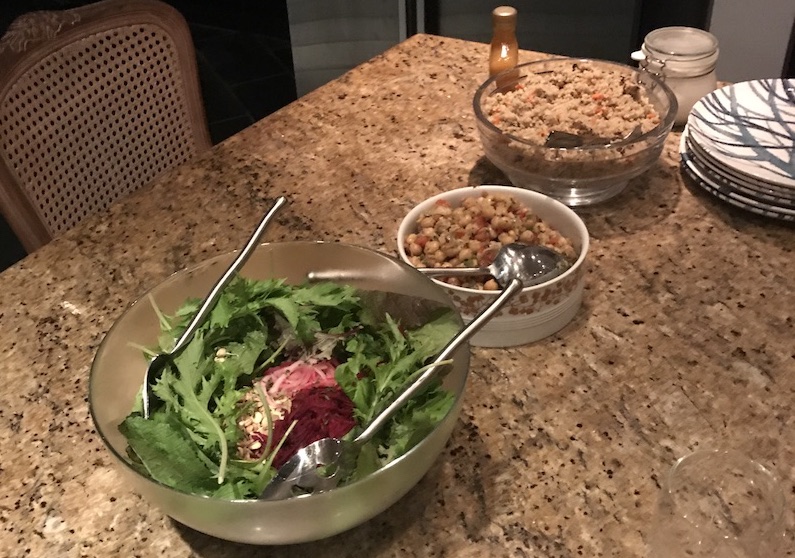 The 5 of us had a glass or two of wine and good time getting to know each other a little better that evening. All of us were Americans who had lived in Puerto Rico for at least 3 years, some more than 10, and all for various reasons (and to respect their privacy, I've only used their first initial):
C and her husband own a shipping company that transports supplies to and from the US and British Virgin Islands; L is married to a Puerto Rican and the founder and CEO of a successful food tour company in Old San Juan; M is a federal lawyer and her husband an accountant here in PR; J, my neighbor, who is also married to a Puerto Rican, is an Air Force Major; and Daniella, our lovely British yoga instructor and founder of the retreat and Santosa Yoga, is married to an American who teaches literature at the  University of Puerto Rico.
It was so refreshing to be around these brilliant, beautiful & successful ladies I felt such commonality with. I learned a lot from each of them and hope we can continue our newfound friendship outside of the retreat.
Saturday started very early with a yoga session and delicious breakfast all done in silence. It was a new experience to not speak to anyone for the first few hours of the morning, but of course Daniella had her reasons. She explained that breakfast is the perfect opportunity to commence the day with mindfulness and an open heart- that a meal taken in silence reduces stress, elevates immunity, and increases the body's ability to digest and fuel us for the day ahead.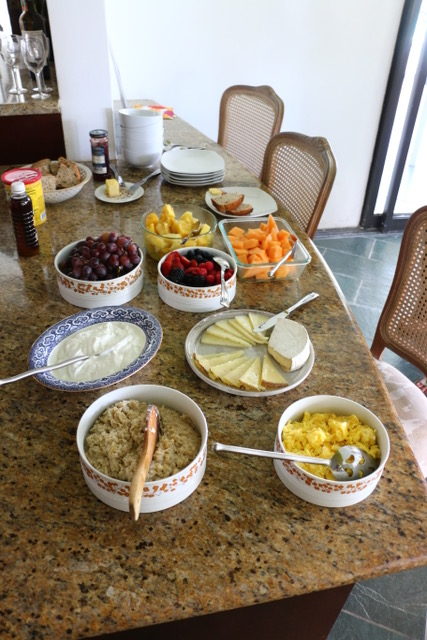 It was strange at first but I did find myself savoring the food a little longer, thinking of where it came from and being grateful for the nourishment it was giving my body. Our morning workshop after breakfast was all about gratefulness so it tied the two experiences together quite well.
After such a peaceful morning it was time to experience the beauty of nature via a hike through the southern part of El Yunque in a gorgeous waterfall/river rock area called El Hippie.
We hiked across several large boulders to have our lunch in the middle of a lovely natural pool. It was so beautiful, my iPhone photos really don't do it justice!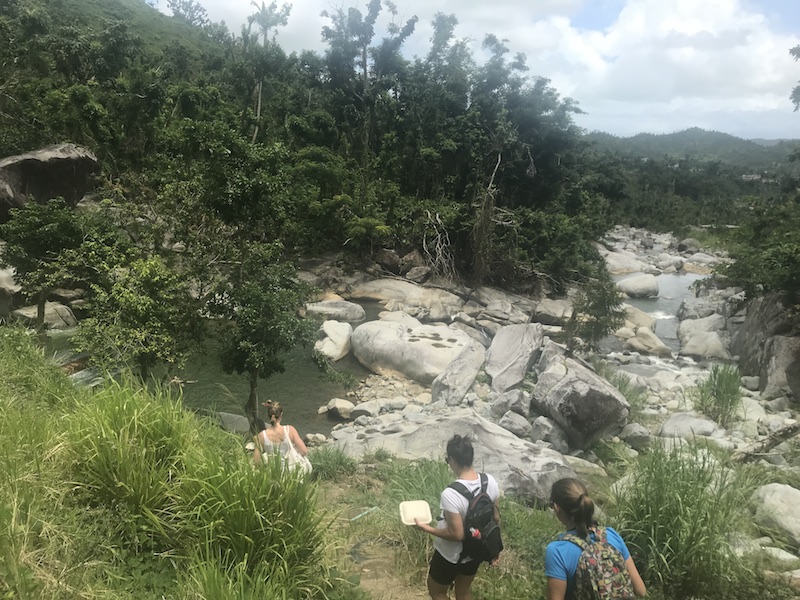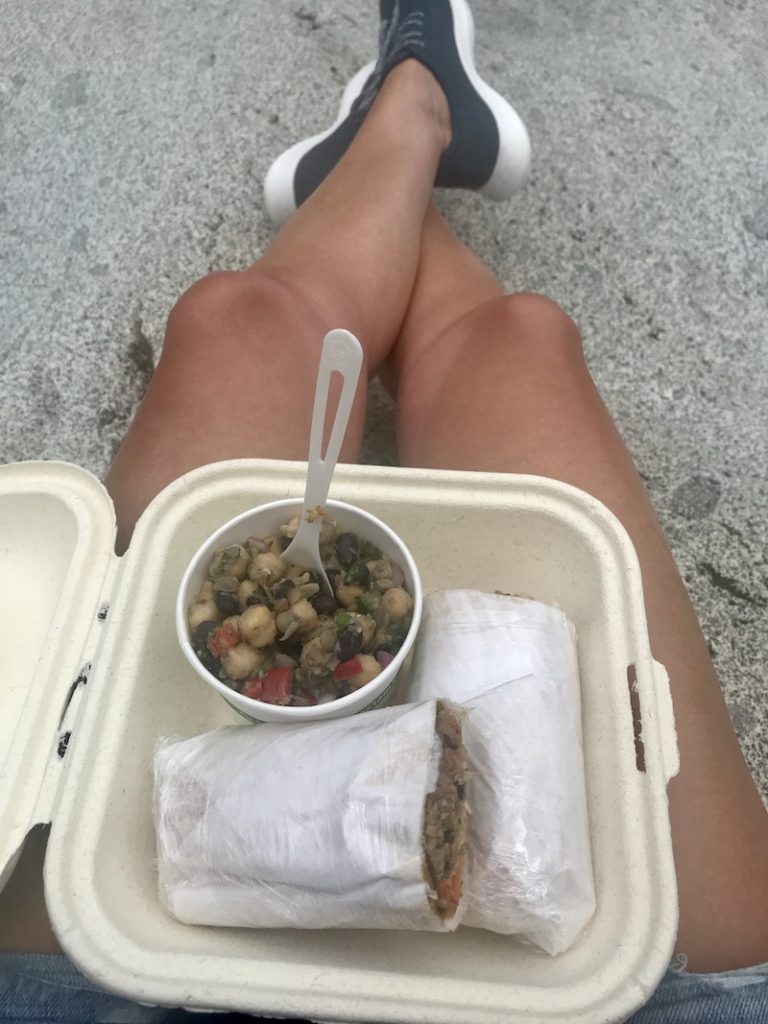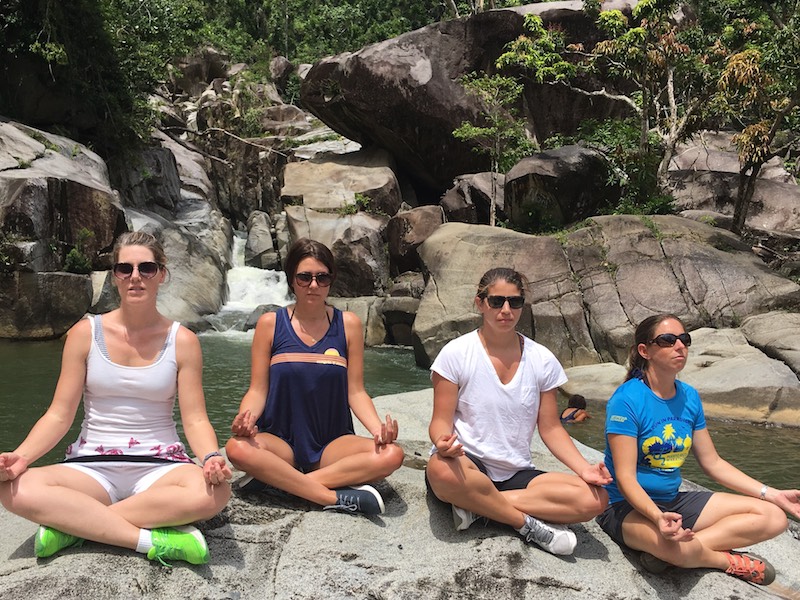 I would have been just fine staying there and maybe taking a dip in the chilly river pool but Daniella had other ideas. You can hike up the side of the mountain to see even more natural pools and waterfalls, plus a view of the beautiful countryside below.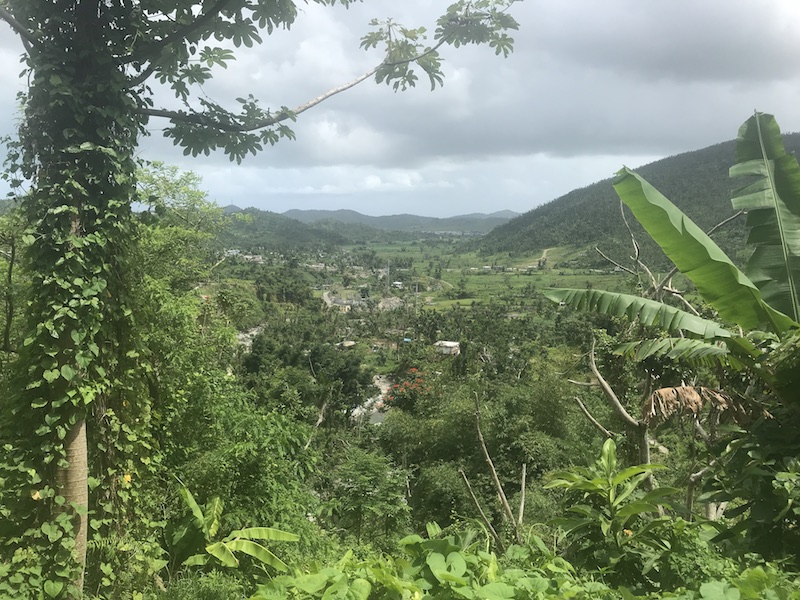 It was NOT an easy hike, especially in my inappropriate AirBirds, but we did come across a few rather unexpected visitors along the way. haha.
Still a unique experience I'm glad I was forced out of my comfort zone to try!
When we got back to the retreat center we showered and lazed around the pool for a few hours before dinner. Unfortunately my phone was charging so I didn't get any pictures of the delicious vegetarian Shepherd's Pie or our amazing restorative yoga session that night.
Yin yoga is very different than Vinyasa or Ashtanga where you're moving with your breathe and holding a series of poses for just a few seconds. In Yin you hold deep stretching poses for up to 5 minutes at a time, targeting your deeper connective tissues and restoring length and elasticity. We used props & pillows to help release into the postures and it was a very calming practice that really relaxed my muscles after that strenuous hike! I was asleep within minutes of my head hitting the pillow that night.
Sunday morning we awoke to another silent breakfast and breezy yoga class by the pool. We tried some different inversions that I wasn't very good at but really enjoyed the final class of the retreat.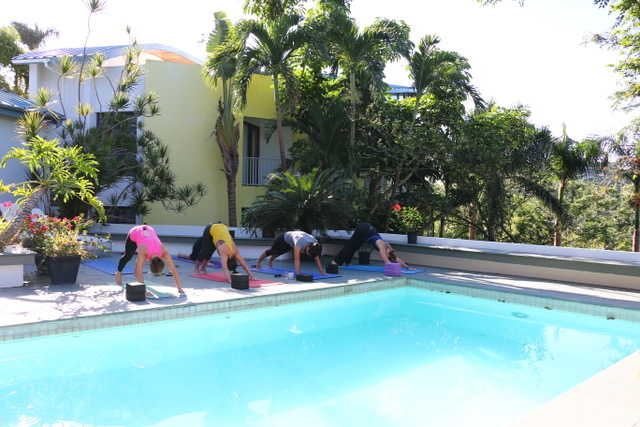 C was quite good at the headstand!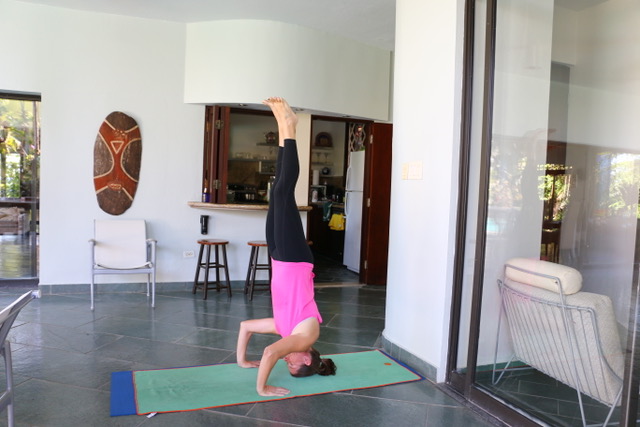 Jenn and I had to leave a bit early (she had kids and we rode together) but I'm glad we were able to snap a few pictures of us all together before we left.
While we missed the closing workshop, the whole of the retreat was all about focusing on, accepting and forgiving ourselves, loving ourselves and finding things to be grateful for every day. It was a beautiful & restorative weekend that I can't wait to do again!
Thank you Daniella!!!
You can find our more about Santosa Yoga's weekly classes and (perhaps) upcoming retreats here.