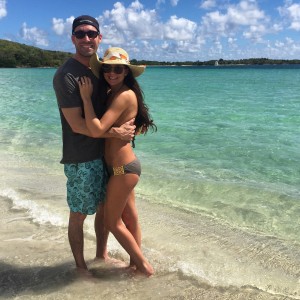 This is a story of two people from Arkansas who became best friends, fell in love, got married, and moved to the island of Puerto Rico! We currently reside in Palmas Del Mar, a suburb, if you will, of Humacao, located on the southeast corner of the island. After waiting years for the ring, he finally proposed in Old San Juan on a vacation to visit friends. Since then, we decided to take the giant leap of marriage and moving in less than 2 months time. We are now happily settled in our new home, with our two dogs, and excited to start our lives on the isle of enchantment. This blog is a place for our friends and family back home to follow along and hopefully be enticed to come visit!
---
UPDATE
---
In March, 2017 Broc and I moved to Condado, the center and more touristy part of the city of San Juan. Being within walking distance of all the best shops, restaurants and just steps from the beach has been life-changing! Anything you can't walk or bike to is a 15 minute drive and the busyness of the city is such a breath of fresh air compared to the passive, humdrum Palmas Del Mar. However just as we were adjusting to our new home and lifestyle, hurricane Irma and then Maria devastated the entire island of Puerto Rico. We were fortunate enough to escape 7 days after the storm and have been living with family in Arkansas until only 2 weeks ago (March, 2018), when we finally felt it safe and stable enough to return.
Currently it feels like life will forever be classified as "before Maria" and "after Maria"- although I hope that's not true. While things are definitely better than they were a few months ago, you still feel an air of depression hanging over the island, that part of its spirit was sucked away with the storm. I don't know if you'd call this an exciting time to be in Puerto Rico, but surely a significant one. The island cannot continue to function in its current state of disrepair and unfortunately a new hurricane season is nearly upon us again. Power is unstable- with thousands of people still living completely without- food is more expensive, medicine is in short supply and we still meet people every day who are moving to the states, 7 months after Maria first hit.
But for now, we are back. And hopefully this blog will help people discover the reality of a paradise reborn.